Three Added To Western Athletic
Hall Of Fame
Class of 2005 includes prep football coach.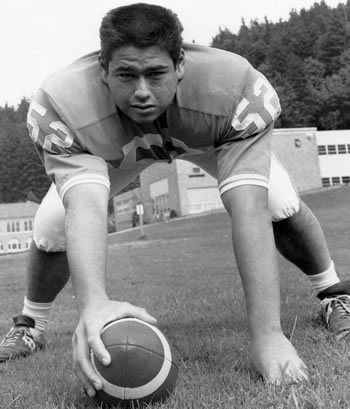 The 2005 inductees are Robert 'Bob' Ames, who is the head football coach at Meridian High School; midfielder Paula French, who was a pioneer in women's soccer; and Jeff Van Kleeck, who competed in both cross country and track for the Vikings.
Ames, who lettered as an offensive center in football at Western in 1964-67, has compiled a record of 214-109 in 31 years as head football coach at Meridian High School. He has directed the Trojans to four state championship games, winning in 1999 and 2003, and being runner-up in 1984 and 2000; and three other teams reach the state semifinals in 1992, 1995 and 1996.
The 60-year-old Ames ranks No.3 in victories among the state's active high school football coaches in all classifications. His teams have won 11 league titles and he has been named league Coach Of The Year four times.
An assistant at Mount Si High School (North Bend) for seven years, Ames received his bachelor's degree in education from Western in 1967. In addition to football, he also earned two letters in rugby and one in track. He is a graduate of Castle High School in Kaneohe, Hawaii, where he competed in track and football.
Ames and wife, Pam, also a Western graduate, have three sons and two daughters, three of whom are WWU graduates. All three sons played football at the collegiate level.
ROBERT 'BOB' AMES
Coach
Ranks No.3 in wins among state's active prep football coaches in all classifications
Has compiled record of 214-109 in 31 years at Meridian High School
Directed Trojans to state championship game four times, winning titles in 1999 and 2003. Reached semifinals of state playoffs on three other occasions.
Has guided MHS to 11 league titles, being named league Coach of the Year four times
Twice coached in East-West All-Star game
Assistant coach for seven years at Mount Si High School (North Bend, WA)
Earned letters in football, rugby and track at Western